Entry Drive and Mailbox
Situated on a lot fronted by two busy roads, the key to this project was in creating a strong "public" face of the building and an open, yet protected, "private" side. Using building techniques from three centuries of local custom and blending them to create the idea of an adaptively re-used mill, the building invites the visitor to suspend their disbelief and enter an anachronistic time-space, both rugged and highly refined. This project was published in the September 2008 issue of House Beautiful, and as the Home of the year in the September 2009 issue of Lehigh Valley Style.
Mailbox: galvanized steel frame and box with Ipe wood face and powder-coated flag.
Entry Drive: Decomposed granite; dressed granite gateway wall.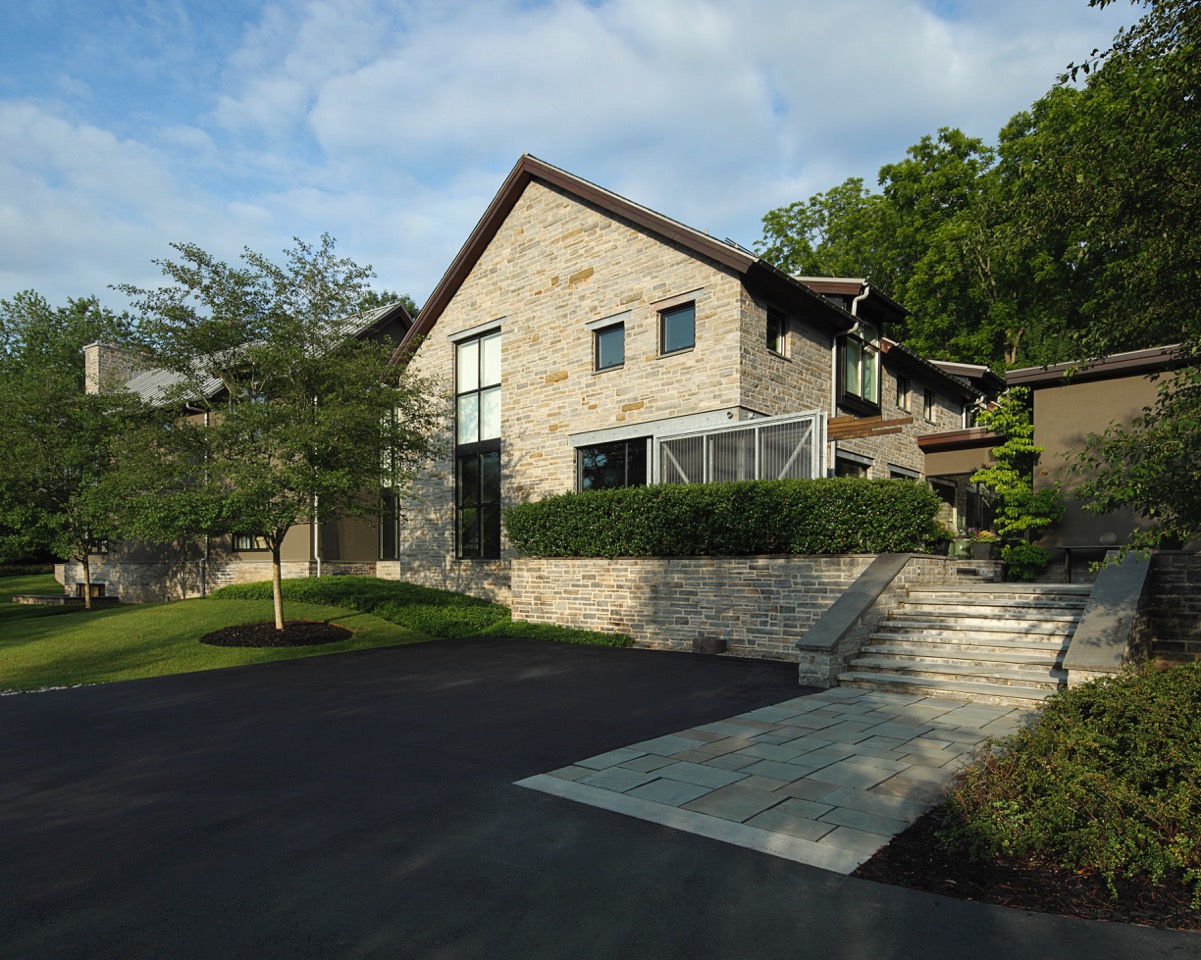 Guest Parking and Entry Screen
Stainless steel metal fabric in galvanized steel frame.
Photo: Alyssha Csuk
Entry
Stone facade, steel canopy with wood extensions, galvanized steel lintels, slate roof, aluminum-clad wood windows, Pennsylvania pattern bluestone walk, thermal finsish stair treads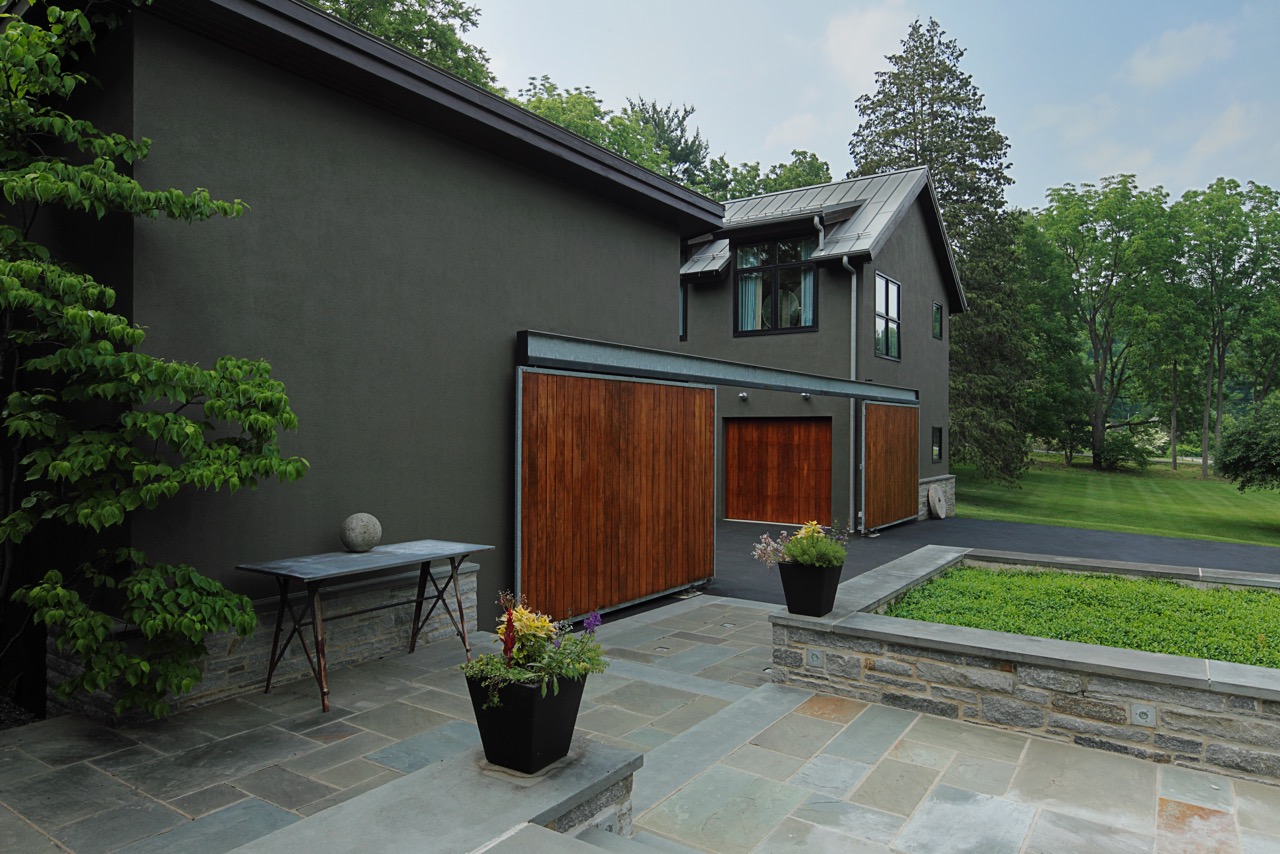 Drive Court Gates and Guest House
Custom-designed and locally fabricated gates utilize a crane motor. Ipe wood in galvanized frame. Chocolate stucco finish with terne-coated stainless steel roofing on garage and guest house (beyond).
Photo: Alyssha Csuk
Entry
Steel window and doors (Optimum); Pennsylvania pattern bluestone pavers, board-formed concrete, custom cushions and pillows, stained cedar soffit.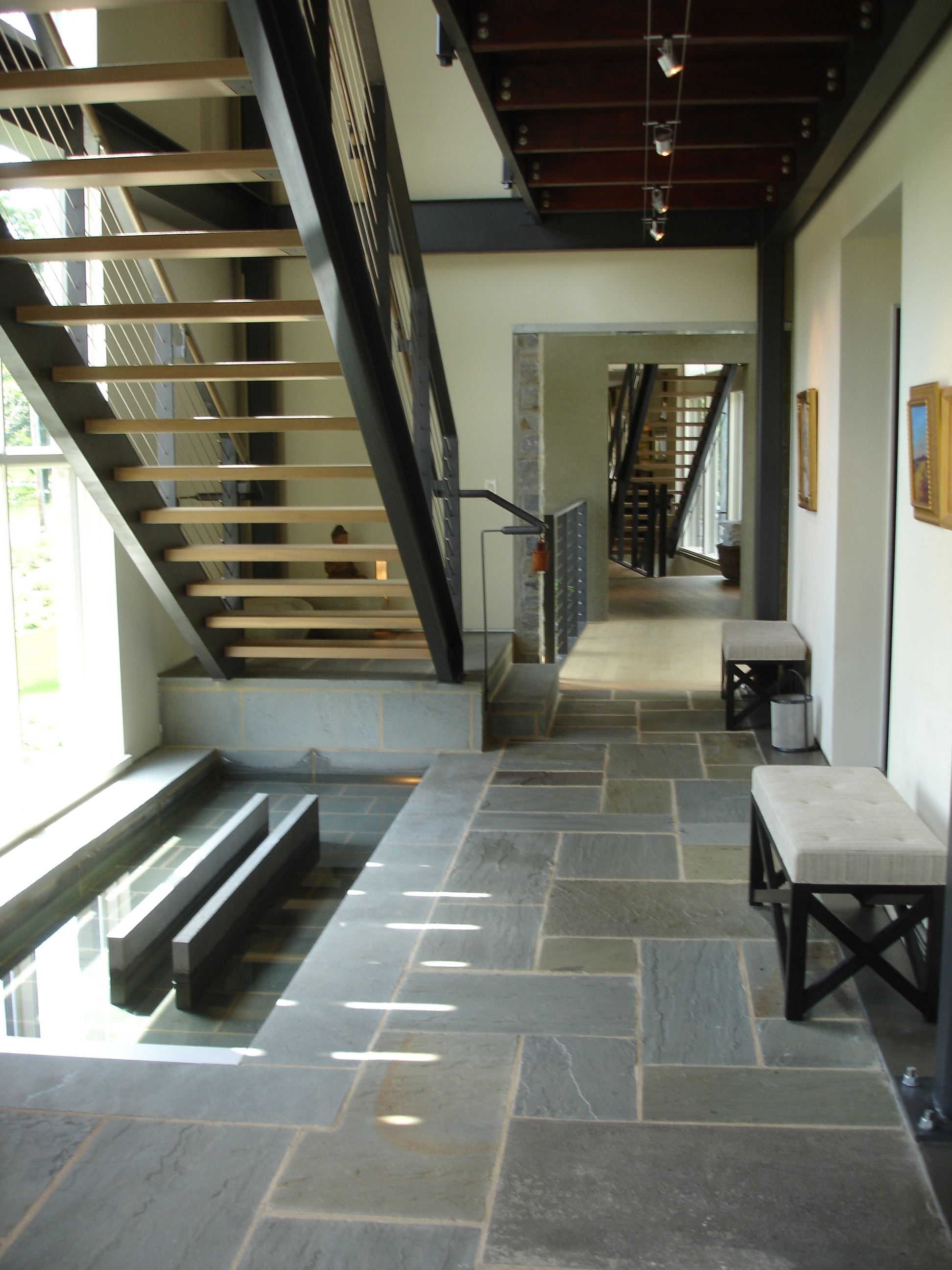 Foyer Stair and Pool
Pennsylvania bluestone, laminar flow fountain, open stair, cable railing.
Foyer Stair
Bluestone landing, steel stair stringer with solid oak treads; stainless steel cable rail; oak & steel handrail.
Corridor to Living
Exposed steel columns, Ardex concrete floors with radiant in floor heat, distressed wood floor at Living, wedge wood cabinetry.
Living Room
Exposed Steel columns and beams; composite heavy timber trusses, stone faced Rumford fireplace, distressed wood floor inset into Ardex coated concrete floor.
Kitchen
3" Carrera Marble island with welded aluminum lags and end panels.
Lagos Azul counters on Wenge cabinetry.
Custom-designed and fabricated range hood with remote fan (ultra-quiet).
Extra deep counter at sink bay window allows for indoor kitchen garden.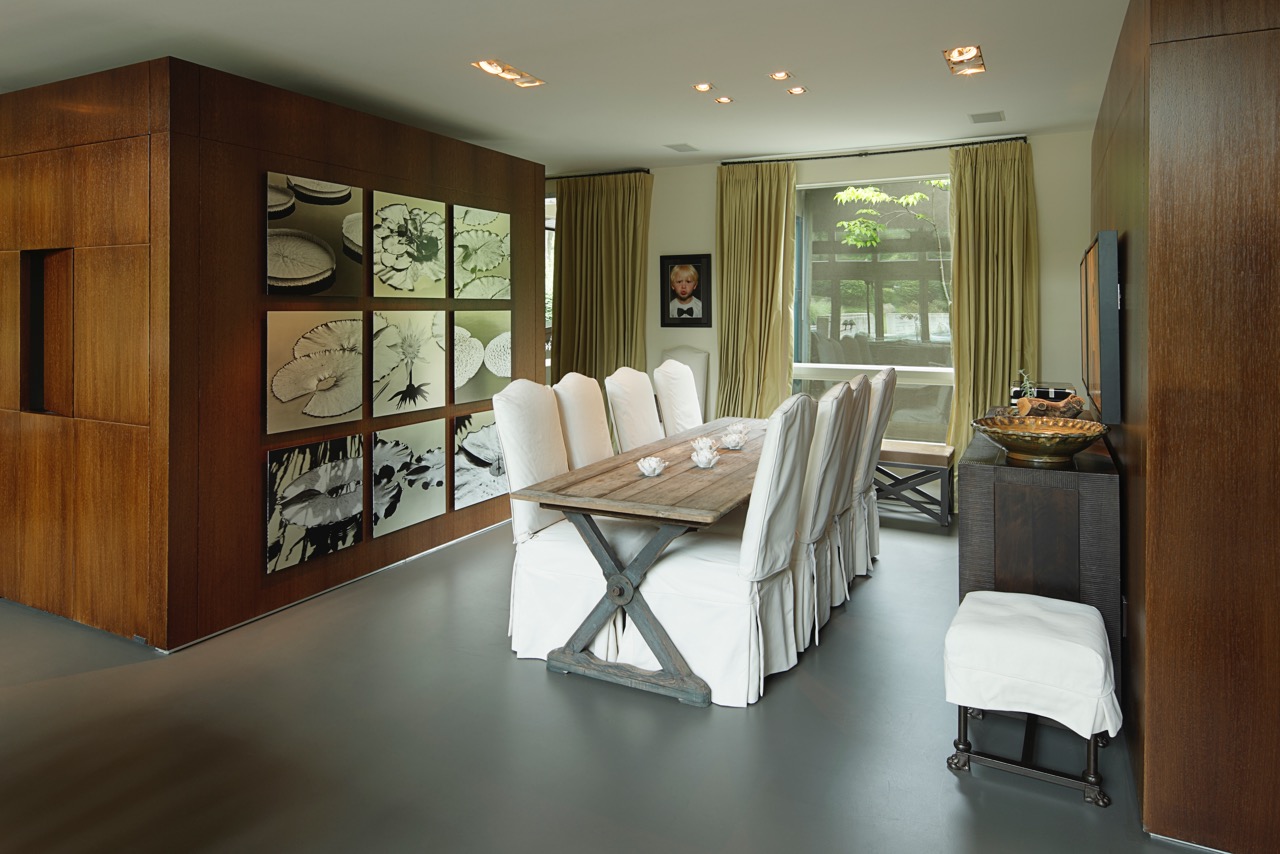 Dining Room & Pantry Box
Wenge wood finished cabinet housing a butlers pantry and wet bar, along with upright appliances in Kitchen (beyond) is used to delineate the open Dining Room. Ardexx flooring.
Photo: Alyssha Csuk
Rear Patio & Facade
Main house is dressed granite, slate roof (cold roof system), and stainless steel snow rail. Loewen aluminum-clad wood windows & Nana folding glass wall.
Pool projects from grade 18" and acts as both a seat and table.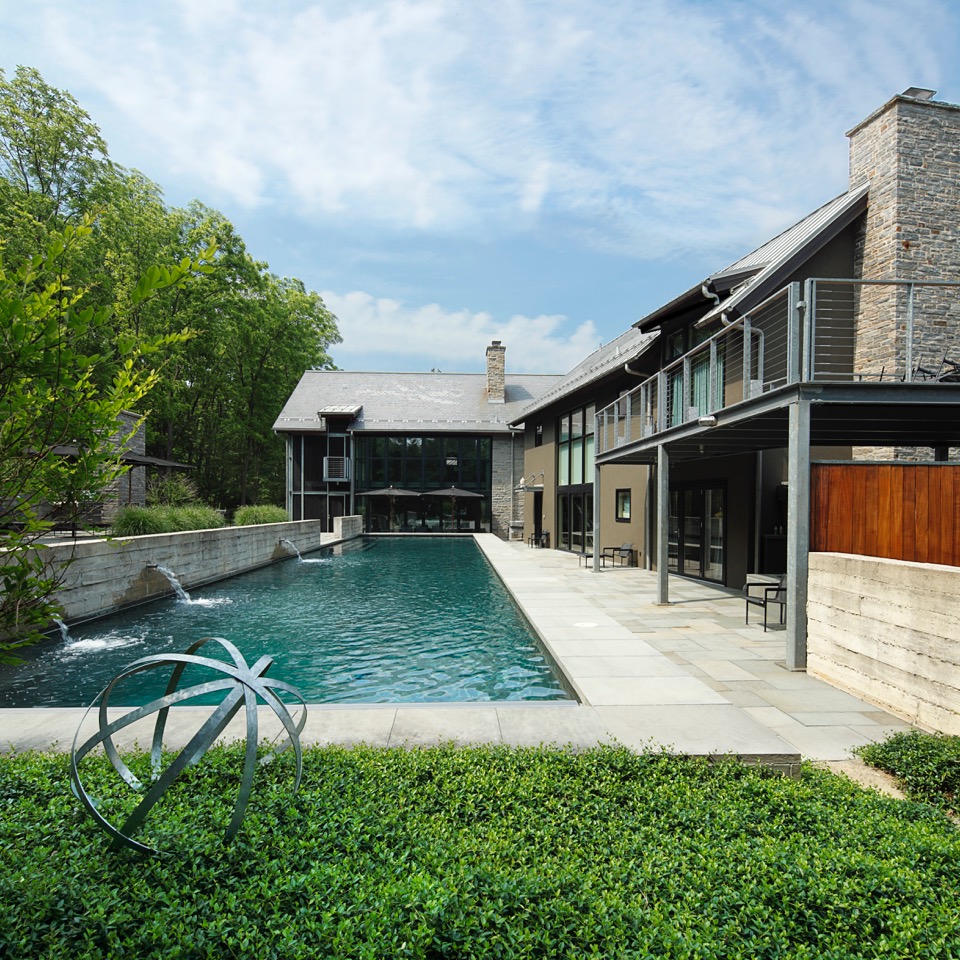 Pool and Plaza
We designed the pool to project from plaza, allowing it to be used as seating or table space, PA Bluestone, with concealed linear patio drainage system (ACO Brickslot); ipe wood panels; board-formed concrete walls.
Photo: Alyssha Csuk
Transitions
View from entertainment wing, through bridge, toward entry foyer.
Distressed hemlock floors; wenge wall panels, dressed granite stone, steel and stainless cable rail guardrail.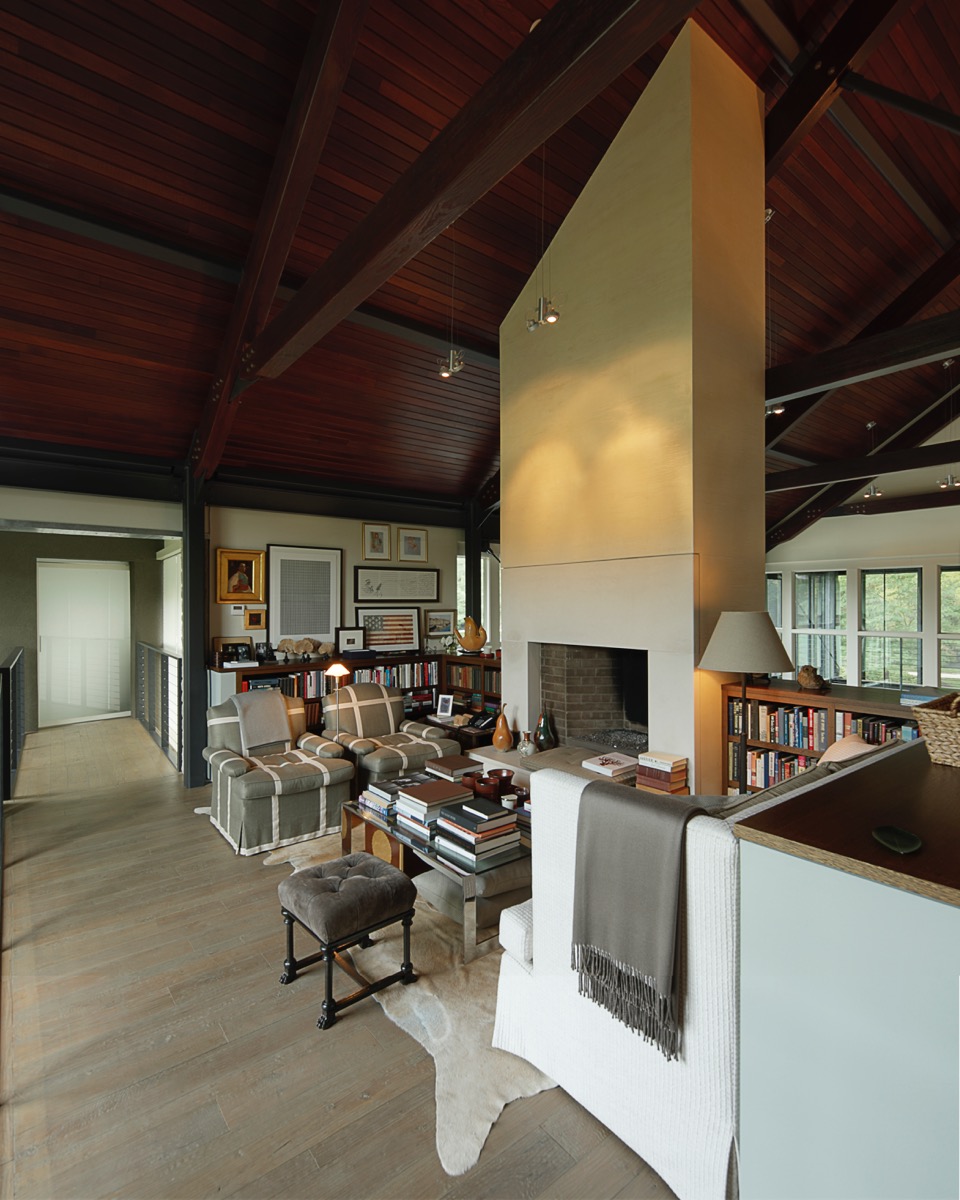 Library Loft
We designed this space as a soft transition between the main stair and the Master Bedroom and Guest Bedroom wings of the home. The Rumford Fireplace is fitted with glass stones and gas.
Ceder T&G ceiling, composite wood/steel trusses, Delta lighting, wood library shelving. Distressed Hemlock flooring.
Photo: Alyssha Csuk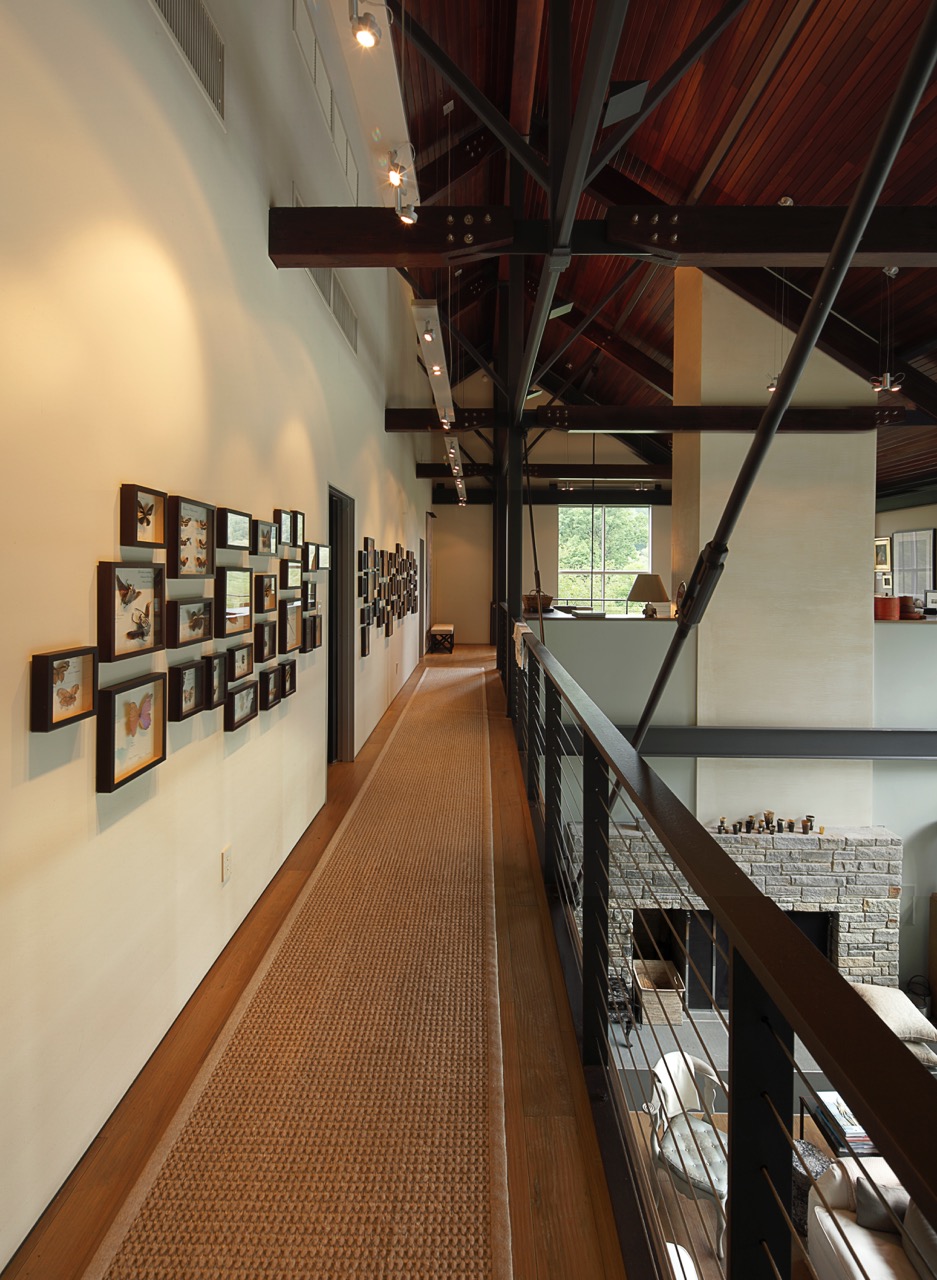 Bedroom Loft Balcony
Overlooking the Living Room, this balcony accesses two bedrooms and laundry room. Distressed Hemlock floors, steel and cable railing, composite steel/wood trusses, custom designed light fixtures (Delta)
Photo: Alyssha Csuk
Master Bedroom Suite Hallway
Stair leads to home's entertainment wing. Sliding doors on left lead to master closet and master bath. (Master Bed sleeping chamber is behind photographer).
Flooring is a hand-stitched vintage French upholstery.
Master Bath
Travertine Tile & Mosaic Floor and Walls. Floating shower with two shower columns (Hansgrohe). Wenge cabinetry.
Master Bedroom Chamber
Limestone fireplace surround (hung); cantilevered wood shelves, tongue-in-groove wood ceiling; hand-stiched carpeting.
Guest Corridor Stair
The stair leads the the Master Suite Gallery, and down to the Fitness Room and wine Cellar. Large windows provide a view of the swimming pool and gardens.
Painted steel and cable railing. Translucent glazed doors (Tre più), distressed hemlock flooring, Delta lights.
Photo: Alyssha Csuk
Fitness Room
Exposed steel beams, painted; tongue-in-groove wood ceiling; linear cove lighting (elliptipar)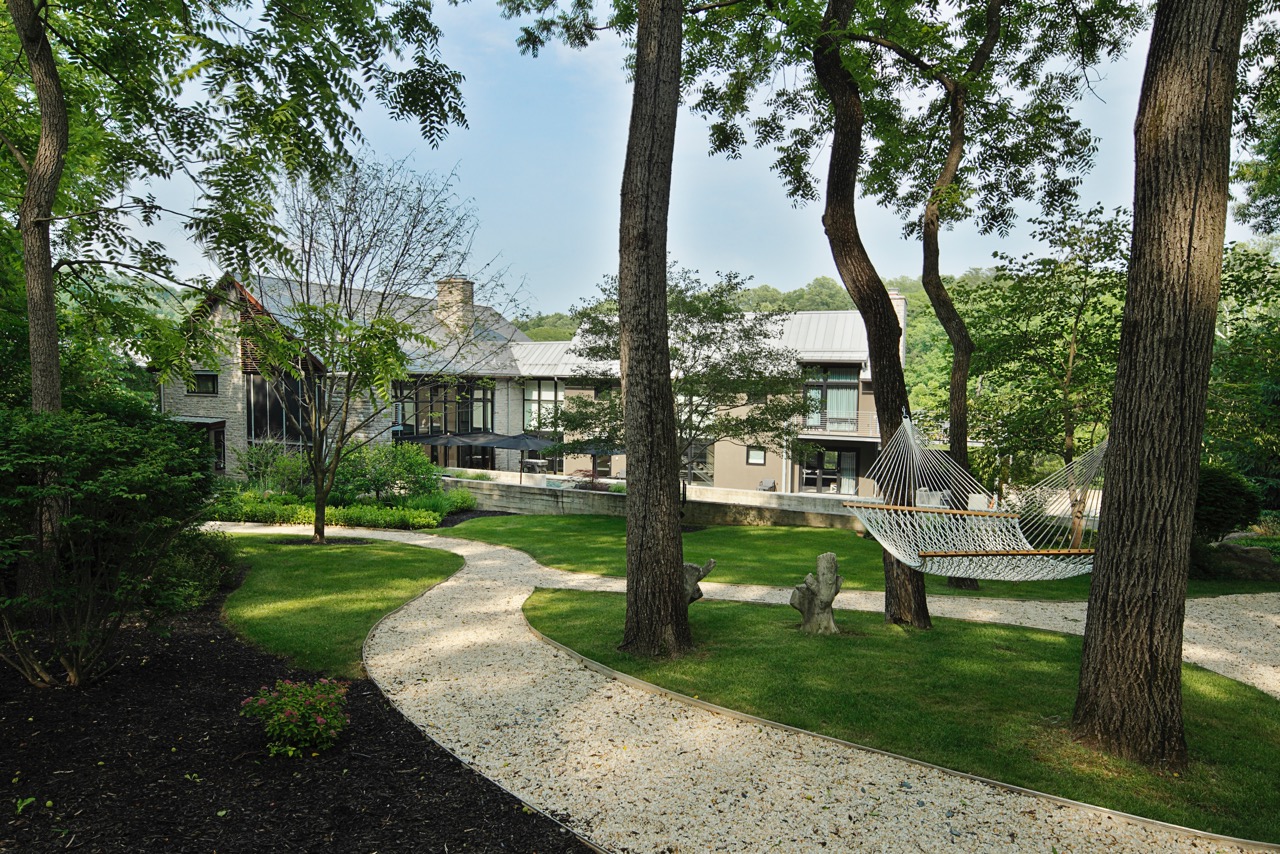 View from Forest Garden
Part of our design included a number of nature trails through a large forest garden behind the home.
Photo: Alyssha Csuk
Dining Patio
We designed the landscaping to be fully integrated into the flow of the home's spaces. Steps access the raised patio, replete with outdoor fireplace, and another set of steps accesses the pool.
Photo: Alyssha Csuk
Site Plan
Ground Floor Plan
Upper Floor Plan
Easton (Front) Elevation
West Elevation
North (partial) Elevation
South (partial) Elevation
Guest House - South Elevation
Residential Architecture - Allentown, PA
Private home, garden, pool and landscape design in Allentown, PA. William Dohe AIA LEED AP, Project Architect; Ryan Welty AIA, Howard Browning, Mark Trimbath, project team. Services: Full Architectural Design and Construction Project Management Services. Full Interiors materials, lighting, finishes, sans furnishings (by Jeffrey Bilhuber)