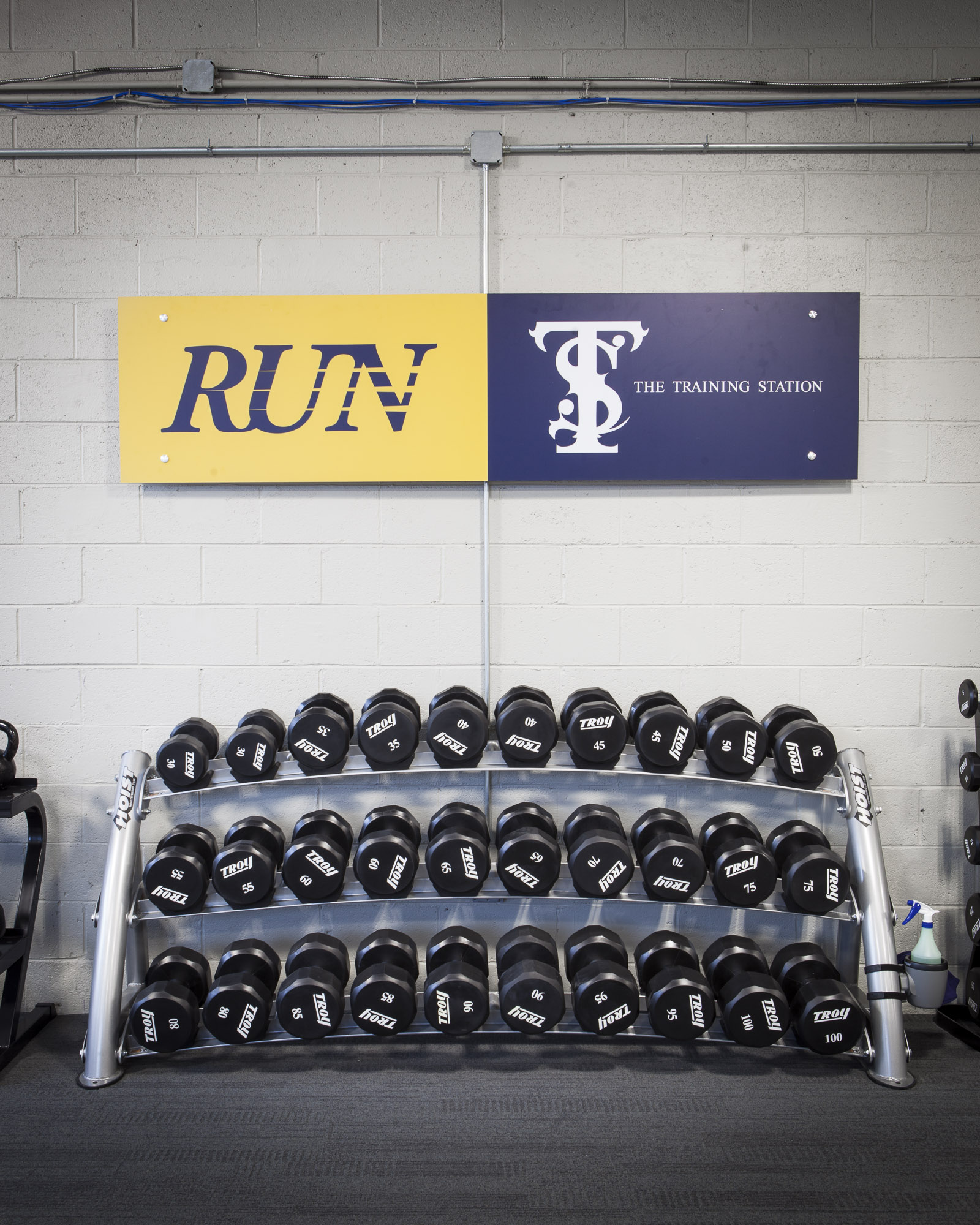 Sprint Track & Treadmills
Run Shoe Store Graphics
Graphics by William Dohe AIA
Entry Corridor
Photo: Robert Luessen
Wall Graphics: William Dohe AIA
Wall Graphic
Wall Graphic by William Dohe AIA
Floor Plan
In order to save space, accommodate the program, and enhance the use, we proposed several strategies incorporated into he final design:
1. Locate the Run Shoe Store in the Entry space, and the gym completely to the rear. This allows casual shoppers to enter the retail component without having to navigate through what would otherwise be a "members only" area.
2. Eliminate the "Locker Room" and create individual single-occupancy WCs, Shower rooms, and Change rooms. Not only is this an enhanced configuration popular with members, it allows for greater privacy, and better turnover, all the far smaller footprint, leaving more space for the main "Gym" area.
3. Open up the East end of the space with fully glazed walls, to bring natural light into the space.
4. Provide an energy recovery mechanical ventilation system to provide enhanced airflow in an energy efficient manner.
5. Volumetric LED lighting to make the otherwise tight space feel larger and more inviting.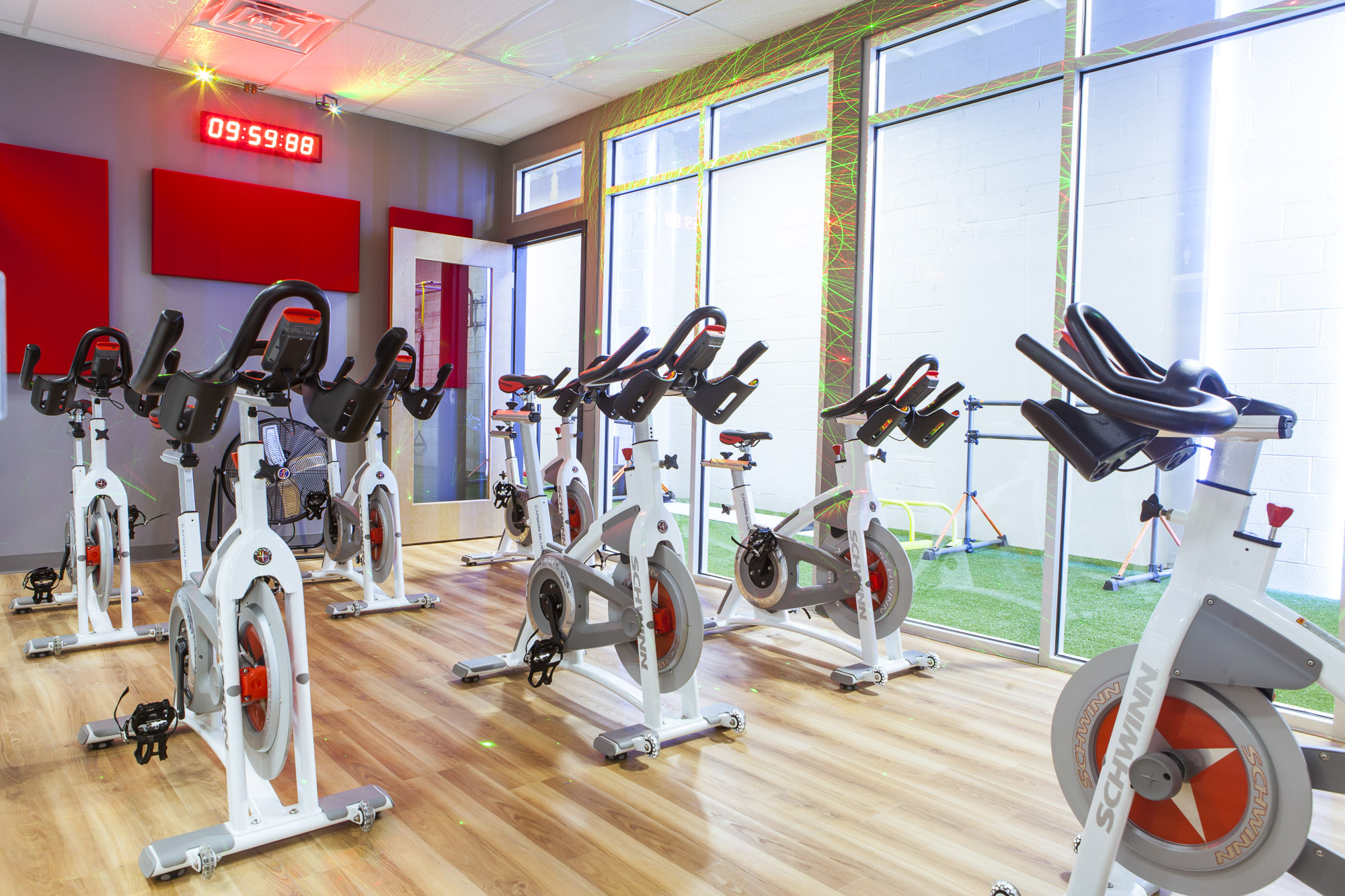 Multi-purpose Room
Used for spin classes and yoga, the room is bounded on two walls with glass, making it feel larger.
Photo: Robert Luessen
Gym View from Outside at Night
Volumetric LED lighting makes the space inviting. Get in there and workout!
Photo: Robert Luessen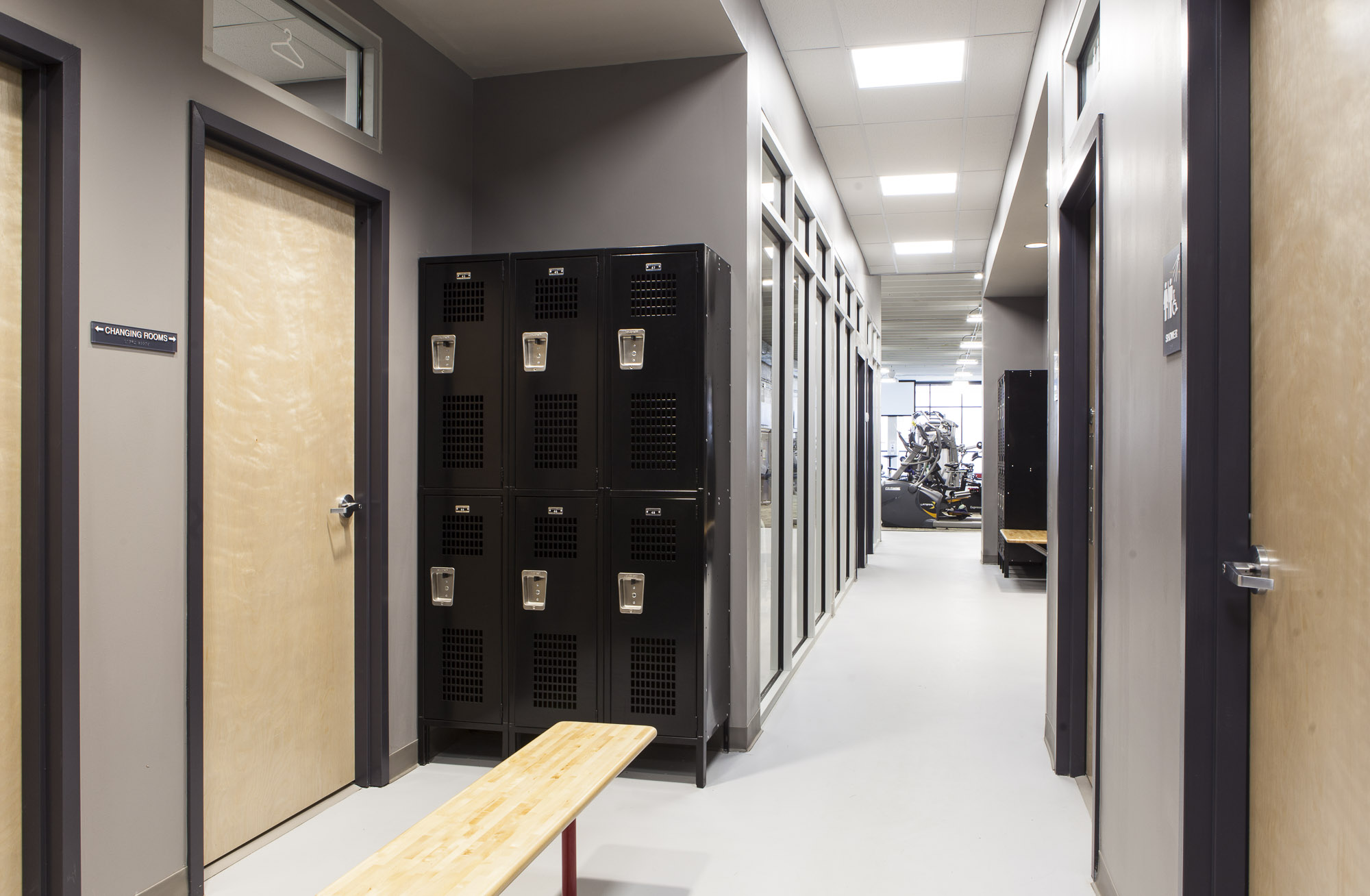 Locker Room Alternative
In lieu of the typical "locker room," we proposed individual WCs, Shower, and Change rooms, to give enhanced privacy, and allow for more flexible use in a much smaller footprint (and fewer number of plumbing fixtures), saving space and cost.
Photo: Robert Luessen
Training Station
The runner overcomes many things that would stop him.
The first thing is inertia: 'objects at rest tend to stay at rest' is a law that governs runners as much as anyone else. There are other private and invisible obstacles. The sore muscles and joints that ache with every step. The thigh, calf and butt muscles that burn during really fast runs. The strain of respiratory fatigue. The embarrassment of being passed or looking slow.
And once out there, you have to protect yourself around cars, bikes and pedestrians. The weather is typically too wet or too hot or too cold or too windy. It's no easier indoors because immense concentration is needed to run on treadmills.
The runner accepts all of these things without complaint (who would listen?). Some add technique to their efforts. Others set out to surpass others or their own standards.
Imagine that, enduring against persistent obstacles, and doing it with style, while giving it your personal best. The runner dares to thrive, not merely survive.
That's so human.